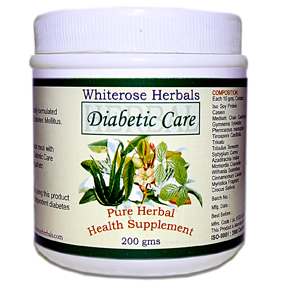 Whiterose Diabetic Care
Pure Herbal Health Supplement
The diabetic care arises due to lack of sensitivity of Insulin. It is a disorder of carbohydrates metabolism, so, many restrictions on carbohydrates intake are imposed. WHITEROSE DIABETIC CARE is prepared and made for such situations. It has Iso Soy Protein as main ingredient plus it has an advantage of having organically grown herbs which are very useful for the diabetic. Their properties of anti-diabetic agent are accepted all over. WHITEROSE DIABETIC CARE is a balanced diet formula which may bring a smile on the face of diabetic patient. With WHITEROSE DIABETIC CARE the person may overcome the nutritional deficiencies and person can lead to a new charming life with smartness. WHITEROSE DIABETIC CARE contains free radical scavengers which prevent body from damage and act as an anti-ageing agent.