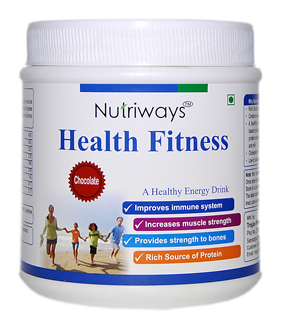 Nutriways Health Fitness
A Health Energy Drink
NUTRIWAYS HEALTH FITNESS is advanced, exclusive and scientifically corrected protein drink. In addition, this diet contains all essential amino-acids, carbohydrate, trace elements and iso-flavonoids, which provide required energy. It helps one feel more powerful and energetic. It lowers the bad cholestrol level, preventing heart diseases and strokes. It provides vital nutrition robbed by poor eating habits, pollution and stressful modern life style. Specially recommended in all sports kabbadi, kho-kho, football, hockey, basketball, volleyball, cricket, tennis, badminton, wrestling, gymnastics etc. for more power & energy.

INDICATIONS :-
As a daily nutritional health drink supplement for adults and elderly, and also in:

General weakness

Post-operative convalescence

Prolonged illness

Stress of varied etiology

DOSAGE :-
4 heaped tablespoons (approximately 25 g) twice daily.
Take a cup of lukewarm/cold milk or water, add the required tablespoons and stir briskly until mixed well. Add sugar to taste, if required.
Available in vanilla and chocolate flavors.