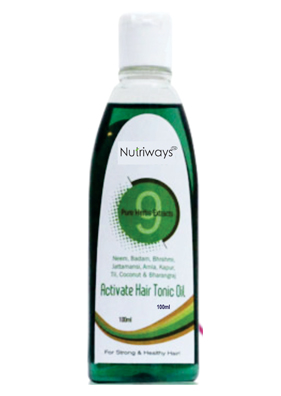 Nutriways Hair Tonic Oil

MOST OF US TREAT OUR HAIR the way we do our teeth – never really providing the necessary attention and care until such time that we begin to suffer from some discomfort. Realizing that you have begun losing hair then triggers off a frantic phase of clutching at all possible straws right from your grandmother's hair care recipe to visiting a trichologist. In reality, hair quality largely depends on several factors of which, some such as heredity may be beyond your control but others such as lifestyle and diet are definitely in your hands. One important point to remember is that the quality of your hair is a direct outcome of the kind of nourishment you provide it.
Nutriways hair oil is an Ayurvedic formulation enriched with the natural & goodness properties of 22 herbs like Bhringraj, Brahmi, Amla and other exotic natural herbs. Nutriways hair oil gives your hair a complete hair care solution. Nutriways hair oil gives you fabulous hair, removes dandruff, improves blood circulation in the scalp, repairs the damaged hair shaft, strengthens hair root & controls hair fall.