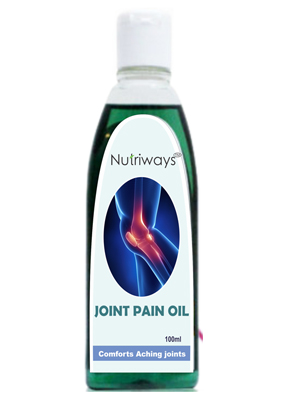 Nutriways Joint Pain Oil

NUTRIWAYS JOINT PAIN OIL works wonders for those with weakened mobility and feeble joints. It makes muscle more flexible and assures proper blood circulation. Nutriways Joint Pain Oil helps in removing the toxin that cause redness and swelling on the affected areas. The oil helps in curing rheumatoid arthritis, gout, cervical and joint pains, stiffness and backaches, frozen shoulders, sciatica and muscular sprains. It also serves as an excellent oil for athletes as it improves flexibility and eases sport injuries and strain.

TIL OIL:-
Hindi- Tilkatel
English- Sesame Oil
Latin Name- Sesamum indicum
The high content of both zinc and calcium in sesame oil is a powerful tool to help combat osteoporosis. Deficiency of either of this can increase the risk of hip and spine fractures. Fortunately, taking sesame seeds can boost bone mineral density.
Gandhapura:
Hindi- Gandhapura Oil
English-Wintergreen oil
Latin Name-Gaultheria Fragrantissima
Gandhapura oil is applied externally with success in acute rheumatism, sciatica and neuralgia. It is used in aches and pains. Oil is valuable for local inflammatory swellings, neuralgic pain, pleurodynia, myalgia, itching, and swelling and stiffness of the joints. It provides a good pain relieving application for acute articular and chronic rheumatism and in gonorrheal arthritis.
Peperminta:
Hindi- VilayatiPudina
English- Peppermint
Latin Name- Menthapiperata
Topical application of peppermint oil can reduce arthritis, rheumatism and chronic joint pain.
Sarala:
Hindi- Sarala, Shrivasa
English- Long-leaved pine or chir pined
Latin Name- Pinusroxburghii
Helps in gaining the lost synovial fluid between joints. It is a very beneficial treatment for a variety of skin complaints, wounds, sores, burns, boils.
Tailapatra:
Sanskrit- Taliapatra
English- Eucalyptus
Latin Name- Eucalyptus globulus
Eucalyptus oil is useful as a warming oil when used for muscular aches and pains, rheumatoid arthritis, sprains and poor circulation.