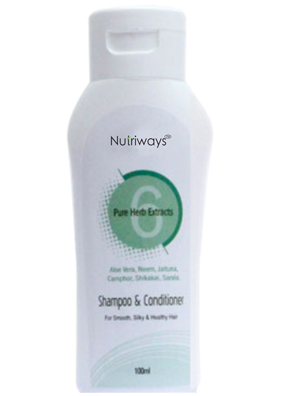 Nutriways Shampoo & Conditioner

NUTRIWAYS HERBAL SHAMPOO AND CONDITIONER is enriched with extracts of 6 pure herbs formulated to give you silky, smooth, healthy and shiny hair. Nutriways Hair Shampoo gently cleanses hair with the perfect blend of herbs and botanicals. Ghritkumari, Jatton, Shikakai and Saral purify and revitalize hair while Neem and Camphor soothe and tone. With the nourishing benefits of our 6 Healthy hair nutrients, this shampoo is ideal for everyday use on all hair types, leaving hair soft and manageable.
Nutriways Shampoo and conditioner contains 6 pure Herbs extract namely:-
Ghritkumari- is a great detoxifier and promotes new hair growth and is an amazing natural hair conditioner too.
Camphor- is a coolant
Neem- is an Anti-lice
Jatton- is an Anti- septic
Shikakai- is hair growth- promoting cleanser herb used for its strengthening & conditioning properties on hair
Saral- is an Anti- lice.